Toronto is well-known for its vibrant community and diverse culture. It has a diverse range of culinary experiences, from street food to fine dining, to satisfy even the most discerning foodie. Food festivals bring together the best chefs, street food vendors, and culinary enthusiasts to showcase their skills and celebrate the city's rich gastronomical heritage, allowing visitors to sample a variety of cuisines all in one place.
Food festivals are frequently described as a "foodie's paradise." These festivals, on the other hand, are a must-see for any foodie or casual explorer looking to try new dishes. From the Taste of Italy to the Toronto Food Truck Festival, this blog will go over the most popular food festivals and what to expect from them, so you can plan your culinary adventure with confidence. Be prepared to get your taste buds piqued as we take you on a tour of Toronto's best food festivals.
Taste of Little Italy
Venue: Little Italy BIA (622 College St Suite #205B, Toronto, ON)
Dates: Fri, Jun 16, 7:00 p.m.–Sun, Jun 18, 10:00 p.m.
Admission Price: Free
The Taste of Little Italy is an annual festival held over the course of a weekend in Toronto's Little Italy Neighborhood to celebrate the rich Italian heritage and culture. The festival has now been an annual tradition for over two decades and has grown in popularity significantly over the years. Thousands of tourists and visitors come from all over the city and beyond to enjoy the live music, food, and festivities.
The festival's main attraction is its food. The festival allows visitors to try a variety of Italian dishes, including pizza, risotto, gelato, pasta, and cannoli, to name a few. Visitors are encouraged to sample food from a variety of vendors, each offering their delicious and unique Italian dishes, the flavor of which will linger in your mouth for a long time. Aside from food, the festival includes live music, dance performances, and other forms of entertainment.
This not only keeps the festival lively but also keeps the attendees entertained and cheerful. There are vendors selling clothing and other items with an Italian theme.
The food festival includes a lot of delicious food, energetic music, and amazing dance performances. Other forms of entertainment, such as carnival rides and games for children and family-friendly attractions, appeal to people of all ages. Whether you are a foodie who enjoys experimenting with new cuisines, a music lover who enjoys live music and dance performances, or simply someone looking forward to a fun weekend, the Taste of Little Italy has something for everyone.
Toronto Food Truck Festival
Venue: Woodbine Park (1695 Queen Street East, Toronto, ON)
Dates: Fri, Aug 4: 5pm-10pm
Sat, Aug 5: 12pm-10pm
Sun, Aug 6: 12pm-8pm
Mon, Aug 7: 12pm-8pm
Admission Price: Free
The Toronto Food Truck Festival is an annual event that brings together dozens of food trucks from all over the city to serve a wide range of cuisine. It draws a large number of visitors and tourists from all over the city and beyond who want to try new foods.
The Toronto Food Truck Festival is unique in that it is one of the city's largest food truck festivals, with over 50 food trucks serving everything from fast foods like burgers, fries, hot dogs, and tacos to more exotic offerings like burritos, sushi, lobster rolls, and so on. Local chefs and restaurateurs operate the food trucks, allowing people to sample some of the city's most delectable cuisine in a more casual setting. To make the experience more enjoyable, vendors sell drinks, desserts, and other treats.
Aside from food, the festival includes live music, dance performances, and other forms of entertainment that add to the overall experience. Throughout the festival, local bands, artists, and performers take the stage, providing a lively soundtrack to the event and ensuring that visitors have a good time. There are magic shows and family-friendly activities such as bouncy castles and face painting, making it a festival that visitors of all ages can enjoy.
The festival is held in a large outdoor space with seating arrangements so that visitors can relax and enjoy the summer sun while eating or drinking. The Toronto Food Truck Festival also claims to be an environmentally friendly event, with vendors using compostable plates and cutlery and recycling stations located throughout the grounds. The primary goal is to reduce waste and promote environmentally friendly practice's.
To summarize, the Toronto Food Truck Festival is a fantastic way to sample the city's diverse food scene while also spending time with family and friends.
Pan American Food Festival
Venue: Yonge-Dundas Square (1 Dundas Street East, Toronto, ON)
Dates: Sun, Aug 20, 9:00 a.m.–Mon, Aug 21, 12:00 a.m.
Admission Price: Free
The Pan American Food Festival was founded by a group of American and Canadian food enthusiasts with the goal of promoting mutual respect and cultural appreciation while showcasing the diverse cuisines of the Americas. This is the only event in Canada that brings together the 41 countries that comprise the American continent. It is an annual festival that draws visitors from all over the city and features food and drinks from all over North, Central, and South America.
Visitors can try everything from traditional Mexican tacos to Salvadoran pupusas to Brazilian churrasco and Peruvian ceviche. It also offers innovative fusion dishes that highlight the creativity of Latin American cuisine. The festival also includes live music, dance performances, and other cultural activities that highlight the Americas' diversity and rich heritage. Visitors can enjoy everything from traditional folk dances to modern Latin music.
The Pan American Food Festival is not only about food and entertainment, it can also serve as a platform for people who are genuinely interested in learning more about different countries' culinary methods, techniques, and traditions. The festival promotes dialogue by hosting workshops where food experts and top chefs speak to visitors about topics ranging from culinary management to fusion cuisine. It is an excellent opportunity to engage in in-depth and insightful discussions with experts and learn about their perspectives on a variety of topics.
Overall, the Pan American Food Festival is a lively celebration of the Americas' diverse cultures, traditions, and flavors, and it is a must-see event for anyone who enjoys food and culture.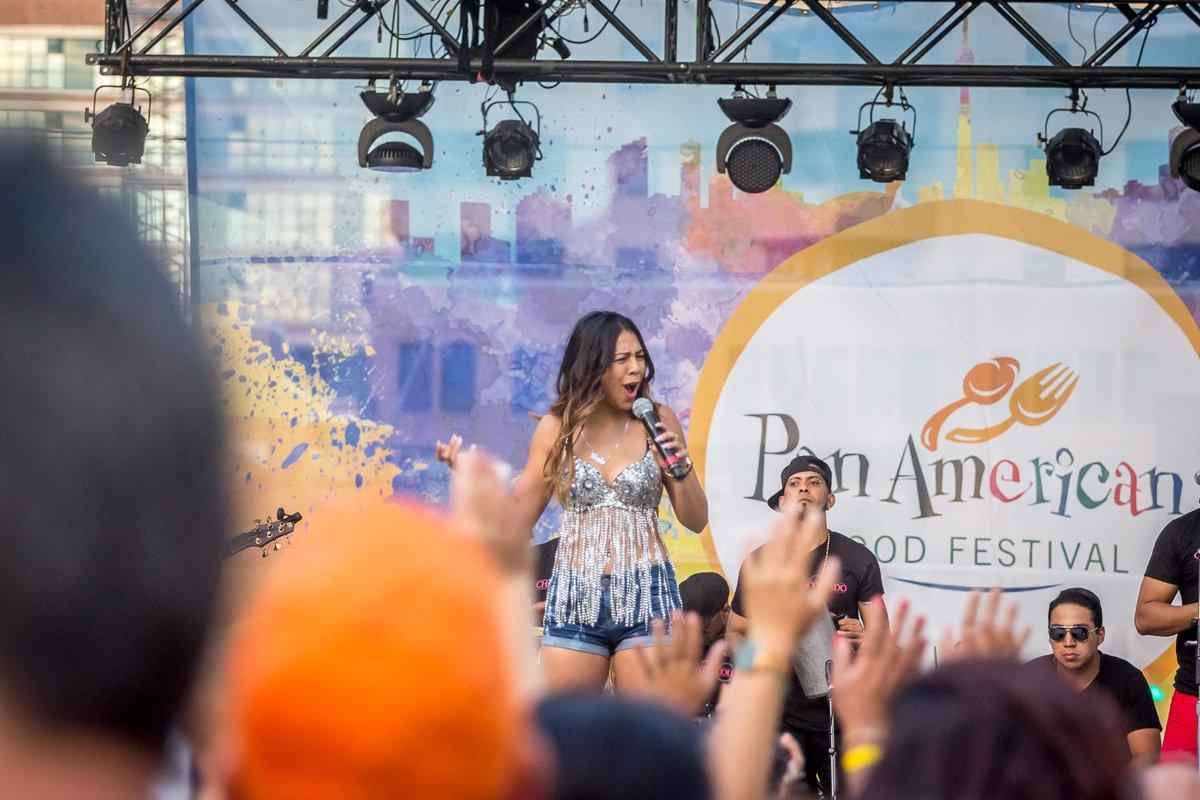 Toronto Ribfest
Venue: Centennial Park
Dates: Sat, Jun 29–Mon, Jul 2
Admission Price: Free
The Toronto Ribfest is a yearly event held over the long Canada Day weekend. This festival is well-known for its mouthwatering ribs and other barbecue dishes, as the name implies. The Toronto Ribfest draws thousands of visitors from all over the country and is enhanced by live music and other activities.
The Rotary Club of Etobicoke organizes the Toronto Ribfest, and all proceeds benefit charitable organizations. The funds will be used to benefit education, health, community development, and a variety of other causes. The Toronto Ribfest is free to attend, but visitors are encouraged to make a donation to benefit the festival's charitable causes.
The Toronto Ribfest includes a variety of vendors serving some of the best ribs in North America, as well as other barbecue dishes such as pulled pork, beef brisket, and chicken. Sauces and marinades ranging from sweet and tangy to spicy and bold are available for tasting. Aside from barbecue, the festival offers vegetarian and vegan dishes, desserts, and sweet treats.
Live music performances by local and international artists, carnival rides and games, a petting zoo, and a craft market liven up the Toronto Ribfest. There are also kid-friendly activities such as face painting and interactive workshops. This festival has something to offer everyone, regardless of age.
The Toronto Ribfest features several competitions, including the "People's Choice" rib competition, in which attendees vote for their favorite ribs. A barbecue sauce competition, in which vendors compete to see who has the best sauce, as well as a "Rib Team" competition, in which the best barbecue teams compete for prizes.
Overall, the Toronto Ribfest is a fun and delicious event that draws visitors from all over the Greater Toronto Area and beyond, offering a chance to sample some of the best barbecue in North America while listening to live music and other entertainment and supporting a good cause.
Conclusion
In conclusion, Toronto is a foodie's paradise, with a plethora of food festivals and events showcasing the city's diverse culinary scene. There is something for everyone to enjoy, from the Taste of Little Italy to the Toronto Ribfest. These festivals not only provide delicious food but also an opportunity to learn about various cultures and cuisines. So, whether you're a local or a visitor, mark your calendar for these top food festivals in Toronto and prepare to be satiated!